The DPD affiliate program is a website level option.   It does not matter if you sell one product through a buy now button or 30 products through multi-item checkout add-to-cart buttons- The affiliate program is always a website level option.
The DPD Affiliate program is global for your account-   If an affiliate is signed up to promote your products he is eligible to promote all websites that are affiliate enabled on your account.
How the DPD Affiliate Program works is this:
You enable and configure your affiliate program
DPD provides you with a special signup / affiliate mini-site URL for you to provide to affiliates, post on your sales site, etc. where affiliates will sign up for your program
DPD provides your affiliates with a special tracking URL that they will use to send potential buyers to the URL you specify.  
When potential buyers visit your website through this URL, a special tracking cookie is added to their browser with the affiliate's information.  
When a potential buyer then purchases your product, DPD will read this tracking cookie and credit the affiliate for the sale.
DPD will record all transactions that were completed with an affiliate's information attached and automatically calculate commissions owed to the affiliate for you.   This information is available for viewing by both the vendor and the affiliate.
DPD will automatically generate PayPal Mass Pay files for you to pay your affiliates with in just a few mouse clicks.
DPD Affiliate Program Vendor Requirements:
Account Requirement
You must have a valid trial or paid DPD account in good standing to operate an affiliate program through our system. 
Processor Requirement
Because ClickBank is its own affiliate platform, you can not enable affiliates on a Clickbank store (their affiliate system is administered through their website and is compatible with DPD's cart and checkout).
Any other processor can be used with the DPD affiliate system.
Payout Requirement
DPD lets you set your own payout terms and conditions.   DPD generates a PayPal Compatible mass pay file each month for you to pay your affiliates with, and collects a PayPal email address from all affiliates.   You are free to use another payout method (check, wire transfer, other payment platform) but you will need to do so manually outside of DPD using the information in the Masspay file.
To activate the DPD affiliate program for your store, do the following:
1.  Log in to DPD
2.  Pick the store from the Change Stores option

3.  Select Affiliate>Store Settings from the left menu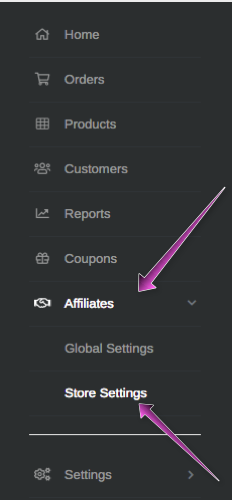 Guide to Affiliate Program Settings: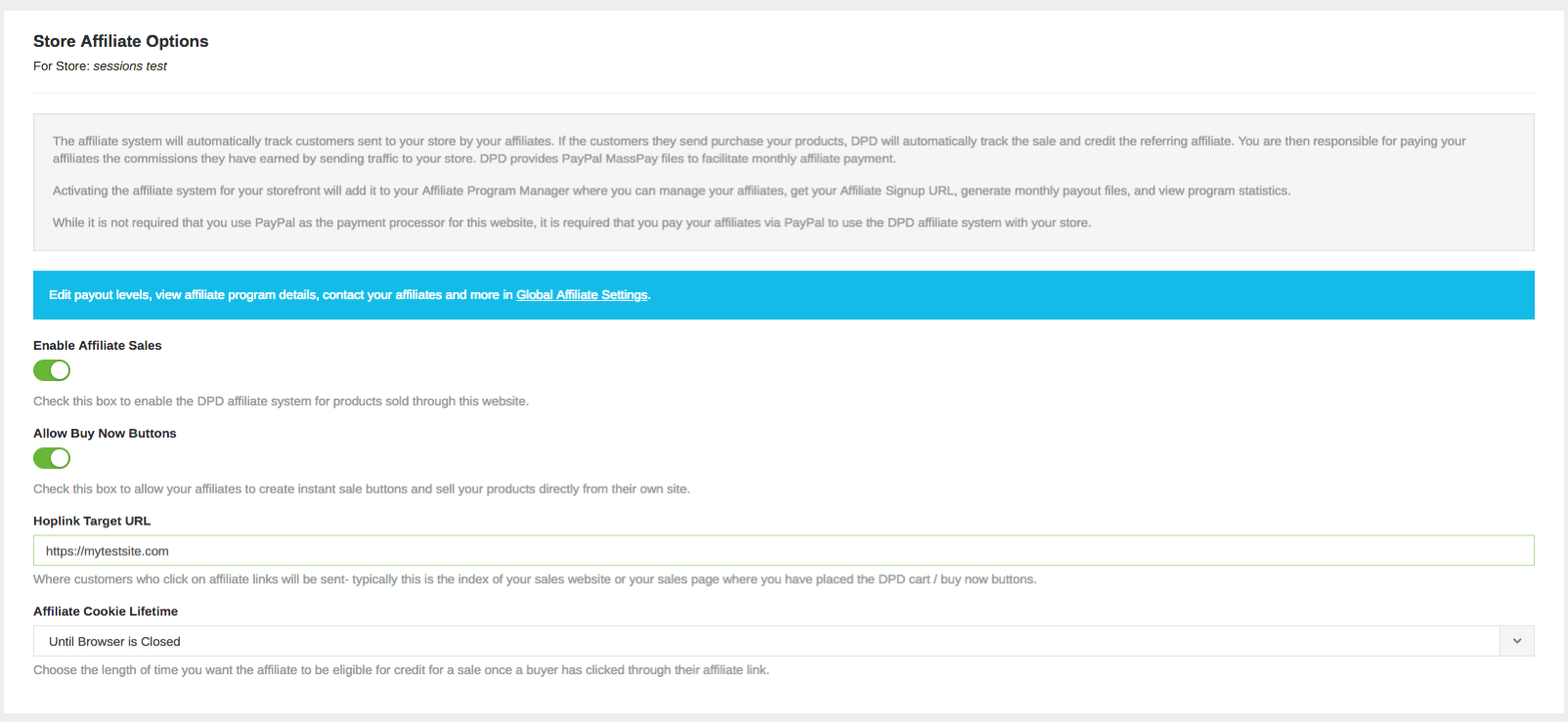 Enable Affiliate Sales
The master on/off switch for enabling or disabling the affiliate program.   Check to activate affiliate tracking for this store.
Allow Buy Now Buttons
DPD is unique in that it gives you the option to allow your affiliates to create their own buy now buttons to your products.  
When enabled, the affiliate will be able to generate their own special affiliate version of your buy now button that will automatically set them as the affiliate for all sales made through it.    All sales are still made directly to your account, and you retain complete control over your product's content and price.    This option is great for if you want to let your affiliates "resell' your products on their site or to their mailing lists, forum groups, and other cross promotions.
Note:  With affiliate buy buttons customers will not be sent to your sales page-  they will proceed directly to checkout from the affiliates page where they have placed the affiliate buy button.   The affiliate would be responsible for the sales message and any promises or claims about your products- keep this in mind!
Hoplink Target URL
This is the URL that the affiliate's special tracking links will send potential buyers to.   You should set this to the index of the website with your DPD buy buttons, a special affiliate landing page, or your "pinch" or "pitch" page for single product sites.
Affiliate Cookie Lifetime
This is how long an affiliate will get credit for a potential buyer sent to your website, even if the buyer doesn't decide to buy right away or closes their browser.   Most affiliate programs set this at one month.
Affiliate Payouts
New accounts will default to one payout level, but it is possible to add more later.    Enter the base commission affiliates should receive when they send buyers to your store and the buyers purchase from you.  This is a percentage of the cart / instant checkout total.   The affiliate payout level is also used when calculating commissions from sales generated by Affiliate Buy Buttons.
5.  Once you have entered your affiliate information, click Save to activate your affiliate program.
Your DPD website is now configured to record commissions and use the DPD Affiliate Program.  Next you need to deploy the signup link to your website.
Deploying the Signup Link to your Website:
1.   Log in to DPD if not still logged in
2.   Click Global Settings from the Affiliate section in the left navigation.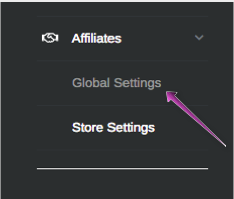 The affiliate Global Settings page is your central management panel for all your affiliate programs. From here you can edit program information, manage your affiliates, add payout levels, and post affiliate news to your affiliates.

3.   Click on Edit Program to enter some basic information about your program.   
Here you can upload a logo to be displayed on your affiliates mini-site, enter any terms of service for your affiliate program you'd like to display to your affiliates (your own rules and regulations), and specify a name for your global affiliate program.
4.  Copy your unique Affiliate Program Signup URL to your website.
This is the URL that you link to from your website so that affiliates can sign up for your program and promote your products.   This URL is also their login to their own Affiliate Stats Mini-Site.  When affiliates go to this URL they will have the option to create an affiliate account (or log in if they already have a DPD affiliate account) and add your program to their list.
Affiliates will then be able to generate their own unique hoplinks to your store, optionally generate affiliate buy buttons if enabled by  you, and view their stats and expected commissions.
This is the basic configuration to get set up and selling with the DPD affiliate program. 
More information on advanced topics can be found below: